With Cultivate'21, the US horticultural industry had its first major event since the pandemic. AUVL participated and we could be found at our booth #3406 in Hall A.
There were a few booths that remained empty. The main reason was that the missing companies were international and had withdrawn from the event due to travel issues entering the US and re-entering their home country.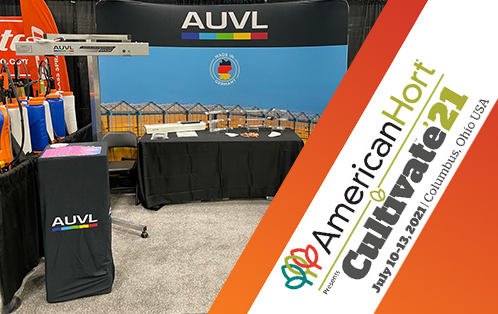 Attendance was about half of what it usually is. This was noticeable throughout most of the show, with the exception of the second day when it seemed like it was just another day at a trade event, but foot traffic was defiantly down.
We came to the event with the expectation that there would be fewer visitors. For this reason, we had fewer conversations than usual, but some very good contacts.
The horticulture industry as a whole seems to be stable, in regards to our conversations with exhibitors and attendees. Most of the manufacturers we talked to had the same issues: either with material supplies or freight problems. The greenhouse owners/managers and retailers we spoke with expressed some workforce issues due to Covid cases among employees and business constraints due to the pandemic.
Overall, however, there was optimism at the expo, especially since it was the first LIVE event without restrictions.
The event was a good opportunity to get the AUVL brand back in front of an audience. Hopefully, this expo will be a good starting point for future live events in 2021/22.