SODIUM LAMPS SINGLE ENDED
SODIUM LAMPS SINGLE ENDED
HIGH PRESSURE SODIUM LAMPS (SE)
AUVL GROW GREEN Sodium Lamps are first-class quality, high-pressure sodium lamps with ceramic discharge tubes for high efficiency and efficacy at great light output and a reliable service life.
High-pressure sodium lamps produce a broader spectrum of light than the low-pressure lamps and are commonly used as plant grow light. The AUVL Grow Green Sodium Lamps are designed for operating with choke ballast and ECG/ electronic ballasts.
ADVANTAGES
Highly effective PAR light output
Very high yield of light through AUVL technology
Optimum lifetime performance
Stimulation of growth in all phases of development
Fast and qualitative growth
Abundant red light for more photosynthesis
High energy efficiency
Savings through AUVL technology
Long service life with reduced maintenance
Designed for operating with choke ballast and ECG/ electonic ballasts
Product quality "Made in Germany"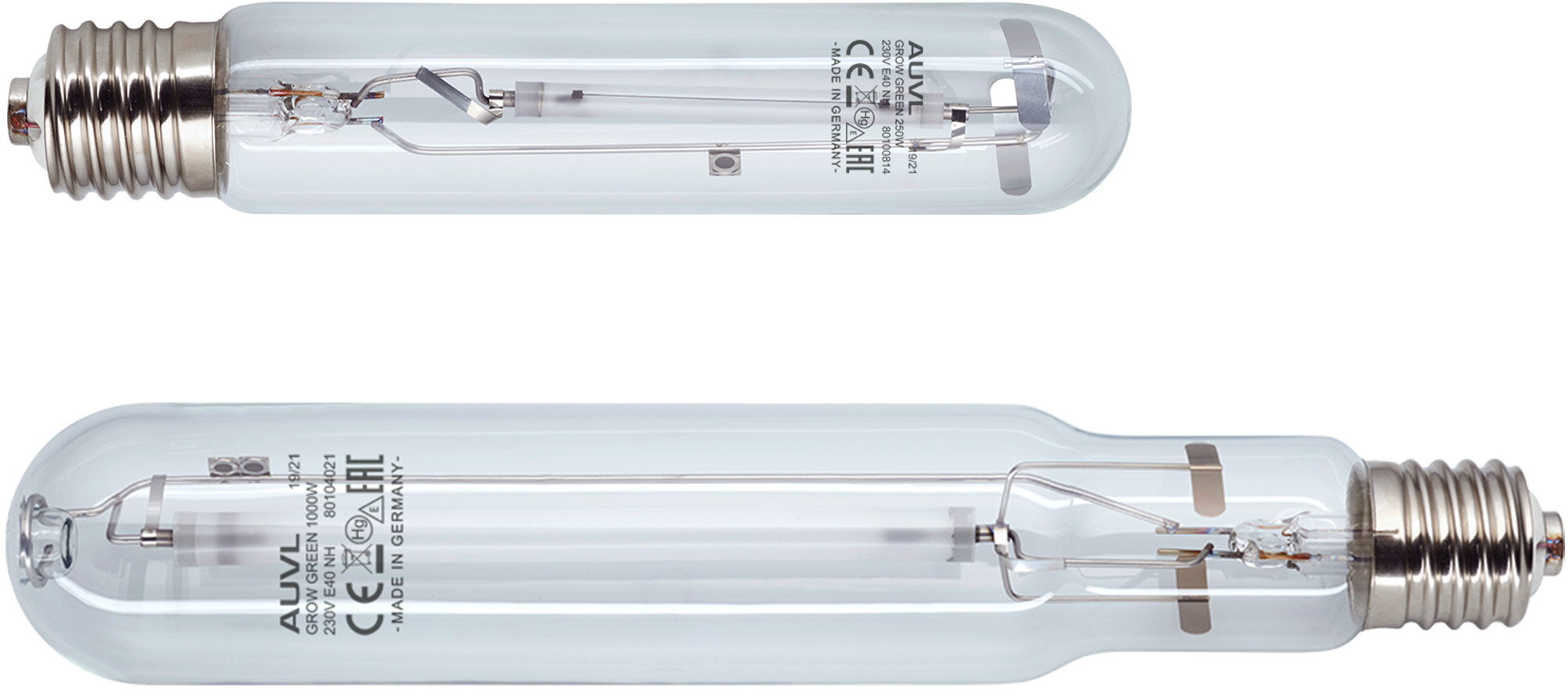 WANT MORE INFORMATION?
Let us get in touch with you
Article
No.
Type
Wattage
Base*
PAR
μmol\s
Lumen lm
Nominal
Voltage
Nominal
life time
Box
Download
datasheet
Download
product picture
80100814 (16000393)
AUVL 250W HPS 230V E40 GROW GREEN
250W
E40
406
33.200
230V
12.000 h
12
80100814
80100814
80101920 (16000394)
AUVL 400W HPS 230V E40 GROW GREEN
400W
E40
725
56.500
230V
12.000 h
12
80101920
80101920
80101921 (16000395)
AUVL 600W HPS 230V E40 GROW GREEN
600W
E40
1.100
93.000
230V
12.000 h
12
80101921
80101921
80101931
AUVL 600W HPS 230V E40 ENHANCED FLOWERING
600W
E40
1.130
85.000
230V
8.000 h
12
80101931
80101931
80100121 (16000397)
AUVL 600W HPS 400V E40 GROW GREEN
600W
E40
1.150
87.000
400V
12.000 h
12
80100121
80100121
80101126 (16000581)
AUVL 750W HPS 400V E40 GROW GREEN
750W
E40
1.400
110.000
400V
12.000 h
12
80101126
80101126
80104021 (16000396)
AUVL 1000W HPS 230V E40 GROW GREEN
1000W
E40
1.650
142.000
230V
12.000 h
12
80104021
80104021
80100124 (16000398)
AUVL 1000W HPS 400V E40 GROW GREEN
1000W
E40
2.100
155.000
400V
12.000 h
12
80100124
80100124