Air disinfection
with UVC
air disinfection
with UVC
san:aer – Active Air Disinfection with UVC
When treating the breathing air with UVC – used for permanent residence of persons – the UVC radiation of 253.7 nm alone has a destructive effect on microorganisms such as bacteria and viruses in a closed housing with a fan.
With the help of UVC radiation, microorganisms in the air we breathe can thus be killed successfully and quickly.
 ADVANTAGES
Fast, reliable and effective disinfection
Also disinfection of chemical-resistant pathogens
No odor changes in the air
No environmental pollution, since it is purely physical
No danger of over- or underdosing
Low maintenance and space requirements
Uncomplicated ceiling or wall mounting
Easy handling
Low operating costs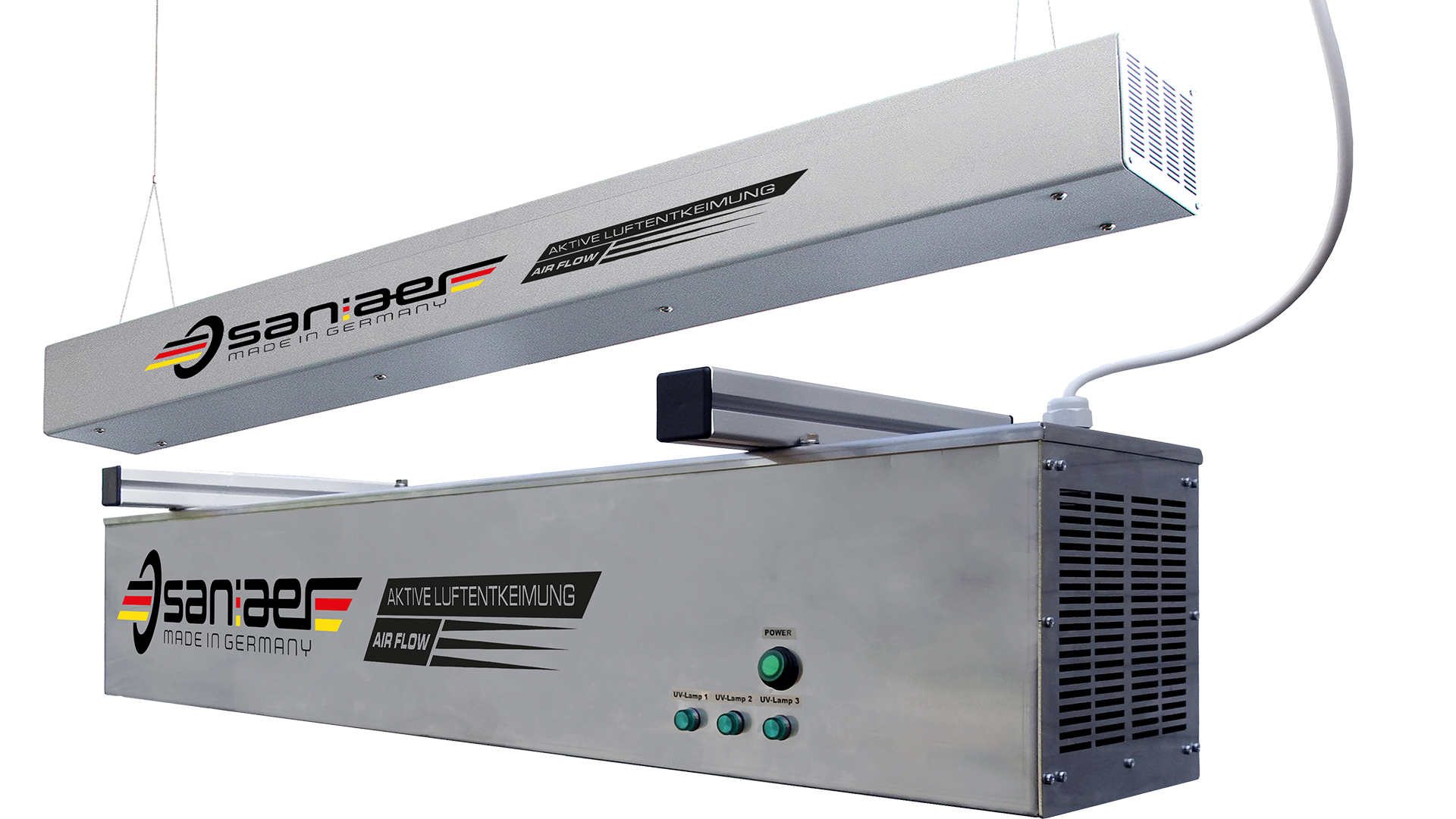 WANT MORE
INFORMATION?
Let us get in touch with you.
AUVL
Item
No.
Type
Degree of
disinfection
of room air
m3
with continous
operation
Air circulation
rate
m3/h
Housing
L x W x H
(mm)
Weight
(kg)
Lifetime
UV lamp
(h)
Amount
of
UV lamps
Temperature
max. (°C)
Power
(W)
Download
datasheet
Download
product picture
76000793
76000794
76000794
76000794
san:aer 45 W
san:aer 45 WS
san:aer 45 R
san:aer 45 RS
80%

88%
ca. 300

ca. 45
24
1000x105x105
6
10.000
1
40
45
76000793

76000795
76000793

76000795
76000797
76000798
76000799
76000800
san:aer 90 D
san:aer 90 DS
san:aer 90 W
san:aer 90 WS
80%

88%
ca. 550

ca. 75
36
1000x105x105
6
10.000
1
40
90
76000797

76000799
76000797

76000799
76000801
76000802
76000803
76000804
san:aer 270 D
san:aer 270 DS
san:aer 270 W
san:aer 270 WS
88%

80%
ca. 1200

ca. 350
100
1100x200x200
14
10.000
3
40
3x90
76000801

76000803
76000801

76000803
76000805
Wire suspension (W)
76000806
Mounting rack (R)
S = with OTC control
especially suitable for
difficult access to
equipment or non-
permanent (24/7)
operation